By Evan Placey after R.L. Stevenson
For The Court Youth Company
"Director Dan Bain's production frequently emphasises an uneasy sense of place and subjectivity... It adds a rich sense of atmosphere, and emphasises the production's interest in duality and (perhaps) the artificial distinctions between good and evil."

By Ralph McCubbin Howell
For The Court Theatre with Trick of the Light
Lysander's Aunty was cancelled due to the covid-19 lockdown.
May it one day return.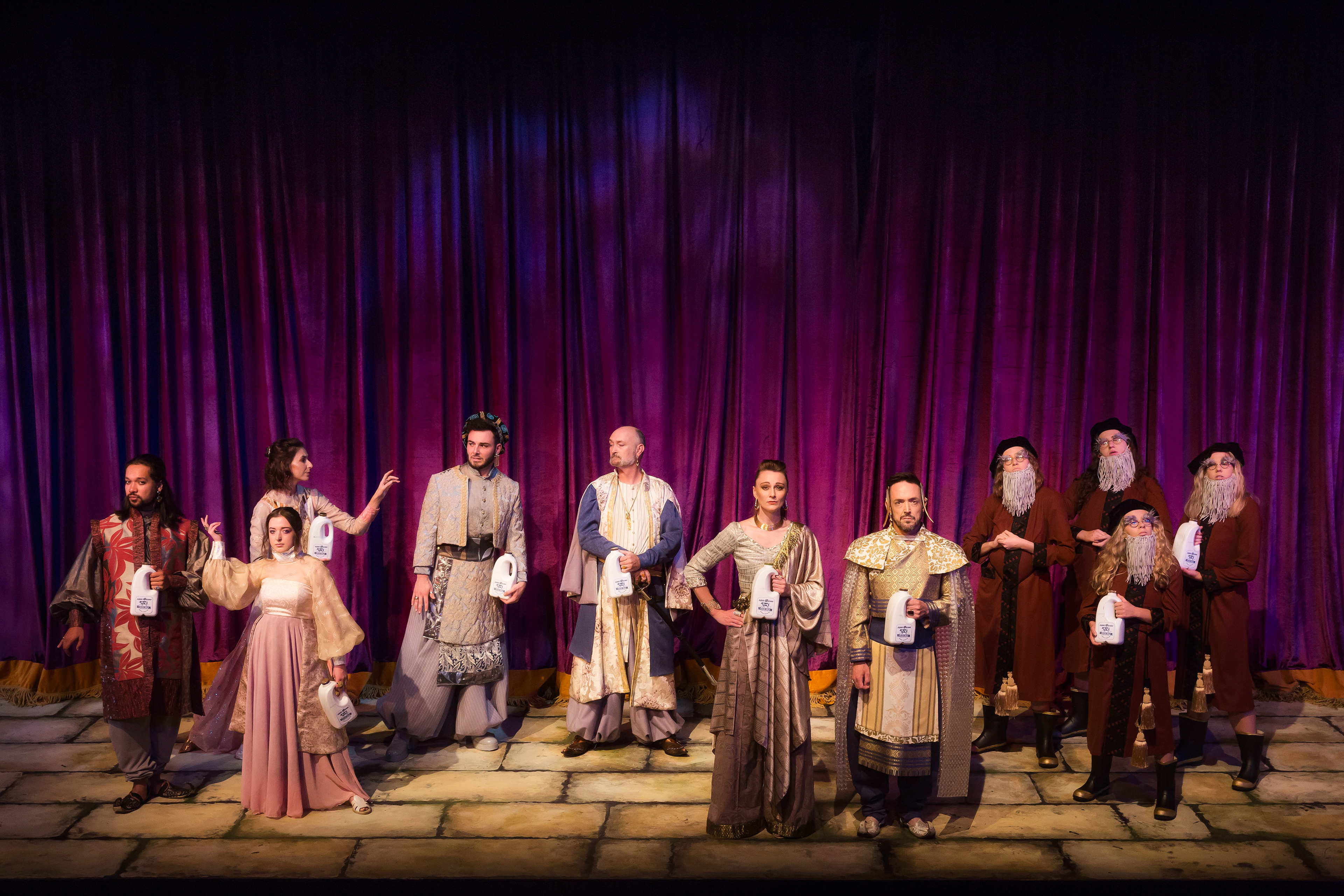 By Dan Bain based on the novella by Charles Dickens
For The Forge Theatre
"The joy of Bain's script is that no two shows are ever the same, so you can enjoy this show year after year. Ōtautahi audiences deserve a distinctly Christchurch Christmas celebration, so after perusing the Ballantynes window and placing a flower in the top of a road cone, enjoy another helping of A Christmas Carol at the Court Theatre."
"We all need a bit of Christmas spirit to power us through to the end of the year, and A Christmas Carol is the fuel you need. Do yourself a favour and book tickets, the show is perfect for a date night, staff function or even a family night out."
ESCAPE FROM HAUNTED HOUSE 2019
By Kathleen Burns and Brendon Bennetts
For The Court Children's Theatre

"Escape from Haunted House is a delightful genre romp that combines a big dripping bucket of kid-friendly horror tropes with enough grown up wit to keep the adults snickering through their coffees."
"The marker of a good children's play at The Court is how good the audience interaction is. And this one does marvellously."
"Escape from Haunted House is a lovely story about friendship. An entertaining tale for audiences of any age."

By Jacquelin Goldfinger
For The Forge Theatre

"This is a story of relationships – of saying what you always wanted to say, or what you had never felt able to say. Of loving and letting go."

"Roy Snow and Monique Clementson made a combustible duo. The father-daughter dynamic felt very real and I was impressed with the tenderness and tension maintained between them for the duration of the show."
"The sparse set of rough-hewn timber is immediately filled with raw emotion and intense drama."

"Roy Snow and Monique Clementson are true stars in this piece, playing the fraught and tender relationship so well. "
THE PRINCESS & THE FROG (& THE ROBBER!) 2019
By Jeff Clark
For The Court Children's Theatre

"This is a great show for the school holidays. The kids will love it and there is plenty of humour for parents too."
"The experience is clearly a happy one and [the] choruses of participation are particularly enthusiastic."
By Tristan Bernays
For The Court Youth Company
"In the words of another Roman, they came, they saw and they conquered."
"Boudica is a credit to its young company and its creative team: all up, it's bloody satisfying."
"The future of the Court is in safe hands if the calibre of the 2019 Youth Company is anything to go by."

By Christina Stachurski
For The Court Theatre

In response to the Christchurch March 15 terror attacks EQ F@#%ing C was cancelled before it transitioned from rehearsal to production.
CHILDREN OF THE NIGHT 2018
By Dan Bain and The Court Youth Company
For The Court Youth Company
"Spine-chilling screams echo around the stone buildings. The courtyard is littered with convulsing corpses. Vampires lurk in the shadows... yet we willingly enter.  
This is Children of the Night, the Court Theatre Youth Company's newly devised post-apocalyptic/ psychological thriller/ film noir horror genre homage/ audience interactive site-specific promenade theatre event. If this explanation of its theatrical style seems overly complicated, allow me to paraphrase: Children of the Night is simply thrilling."
STEPHEN KING'S MISERY 2018
By William Goldman
For The Court Theatre

"This is theatre that will make you nervously giggle, recoil in horror and will likely disrupt your sleep. There is nothing more certain - it is a brilliant show that people should not miss."

"Dan Bain's shrewd direction and the combined talents of an outstanding production team and cast bring a gripping plot to excruciatingly real experience for the opening night audience."

"Director Dan Bain ratchets up the tension as William Goldman's stage version plays out in the ultimate game of cat and mouse meets Survivor (outwit, outplay and outlast) aided by a haunting, wintery score, serious mood lighting and possibly one of the most cunning, multitasking sets ever to grace the Court Theatre's stage."
"Macgregor is marvellously unrecognisable as Annie in all her dowdy, flat-footed insanity. Macgregor plays the part with relish, thumping around the stage, cooing encouragingly at one moment, shrieking dementedly the next."

By Aaron Loeb
For The Forge Theatre

"Ideation is thought-provoking, conversation-starting, unsettling contemporary theatre that, for this reviewer, is the current highlight of the season at The Court Theatre."

"Aaron Loeb's play Ideation is a sinister corporate tango choreographed to the discordant rhythms of ambition, office politics and moral issues which are not only blunted but enthusiastically shredded."

A PAINTBOX OF CLOWNS 2018
By Dan Bain
For The Court Children's Theatre

"My three-year-old is in a fortunate position that he's already seen scores of shows, big and small, but I've never heard him giggle so loudly or his face light up so much in any other show than throughout A Paintbox of Clowns. As I looked around the theatre, every single child had the same happy look. Dan Bain, his trio of clowns, and the production team have certainly turned up the magic these school holidays."

"If you are someone who cannot stand the sound of children's laughter, then you would be well advised to steer clear of the Court Theatre's latest school holiday offering, A Paintbox of Clowns. "

By William Shakespeare
For The Court Theatre

"Bloody Shakespeare it might be, but it's one with a truly epic quality."

"This is a revenge play. It is brutal. It is sadistic. It is confrontational. If you want to be entertained, you best be prepared – this is visceral theatre at its most thrilling and unapologetic. It is brilliant."

"Titus Andronicus is a thrilling theatrical triumph."

"They are a brave and resolute team that tackle this bloodthirsty play."

By Dan Bain based on the novella by Charles Dickens
For The Forge Theatre

"a genial, engaging, peppy and thoroughly enjoyable family entertainment"

By Kathleen Burns
For The Court Children's Theatre

"a first class show"

"a stellar pint-sized panto romp"

JACK AND THE BEANSTALK 2017
By Brendon Bennetts
For The Court Children's Theatre

"a fine addition to the Court Theatre's enduring tradition of introducing young audiences to the joys of the stage."

By Millie Hanford and Maddie Harris with Dan Bain
For MDMA & Noosed Octopus
"The script is as tight as a pair of jeggings, full of snappy one liners and sketches... Like a girl crushing hard, you'll want to follow Sophia and Simone - even if they are too cool to accept your friend request." 
"Dan Bain's setting and lighting designs are ingeniously simple and his sound punctuations (he operates, too) help to sustain his good directorial rhythm and pace."
By Dan Bain, based on the novella by Charles Dickens
For The Forge Theatre
"a witty, playful and family-friendly improv treat."
"a really fun, energetic and inventive show"
"A fabulous festive way to entertain friends and family"
By Hamish Parkinson and Dan Pengelly
For The Court Children's Theatre
"Clever ideas with terrific technical support"
A STREETCAR NAMED DESIRE 2016
By Tennessee Williams
For Canterbury Repertory Theatre
"the opening night house leaves well pleased with a clutch of strong images to support the compelling script."
"A Streetcar Named Desire is the Repertory's first production of 2016 and it's a bloody good start."
By Dan Bain and Luke Di Somma
For St Margaret's College
THE IMPORTANCE OF BEING ERNEST 2015
By Dan Allan, adapted from the play by Oscar Wilde
For NZ Playhouse